#1 Commercial Hardscape for Palm Beach County Businesses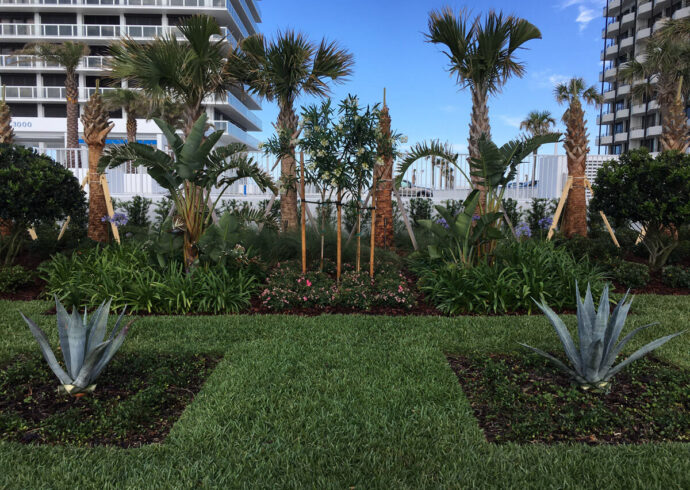 Office buildings and all commercial properties in Palm Beach and surrounding areas usually have one thing in mind: they need to attract more clients but also provide their employees with recreational spaces during their free time. For it, outdoor spaces are usually the key since they can tell a lot about the company and what it offers to those that are outside and inside of it. At Palm Beach County Hardscape Pros, our job is to make sure you can make good use of those spaces by providing commercial hardscapes and the opportunity to bring in your own design on either a small or large scale.
Most commercial owners will come with their flamboyant projects to our company and request different hardscape features for their spaces. However, part of our service includes providing you with guidance and designs that will fit your space the most. This doesn't mean we won't pay attention to what you want or work around it, but we do want to make it clear that sometimes what you want is wrong, but we can make it look good as long as you're okay with the consequences or different styles that can come from it.
That being said, hardscaping involves a lot, and the options are limitless when you have qualified and experienced hardscape contractors who understand how it can be done and work with all types of hardscape options in the industry.
In our case, we have over 15 years of experience working with commercial properties and outdoor spaces in buildings and outside of the usual residential property due to how much people in the city and the entire state of Florida worry about how their front yards, patios, gardens, spaces, and outdoors in general, look like.
This has allowed us to have a lot of knowledge regarding how things must be done, how to work and install different features and ensure you're happy with the final result no matter the style and design you're going for.
This means that regardless of the specific request you have regarding water features, pergolas, patios, walls, and more, our contractors will be there to deliver top services with their experience and skills.
How Do We Enhance Your Outdoors Beauty?
---
Everything works around what you want and need, but if you have questions about how we make the project come to life, it is a matter of working around the steps required until we reach the final stage: approving the estimate and design so our team can start working on your outdoors.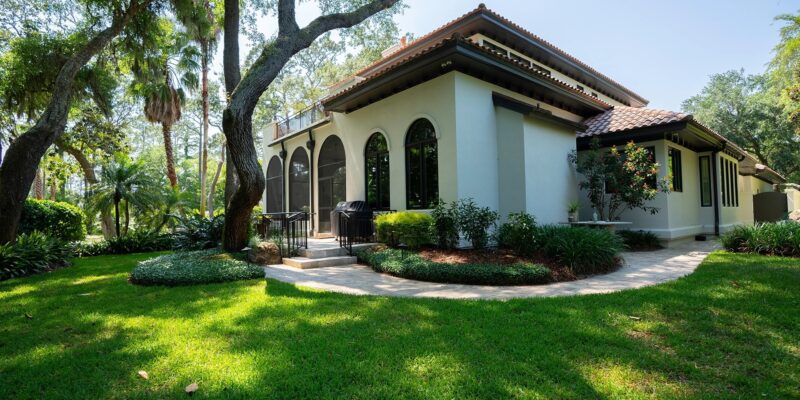 Basically, our contractors will discuss with you what you expect from your outdoors and the features you have in mind. Most owners and people have good ideas of what they want for their design, like fountains, waterfalls, good landscape lighting, and similar hardscape elements. However, they don't usually know what they don't want at all, nor understand what it takes to bring everything together with the space available.
Well, our job is to make everything possible by working on a list of things you would like or not for your space and, from there, come up with a design. We would also like to know if you're designing the space for several people or if you plan to give it specific use.
For instance, some office buildings decide to add hardscape in their green areas to make employees and the personnel spend more time outdoors and have a good time. For this, we will need to prepare more spaces where they could sit or make sure the features such as fountains or pounds don't take as much space if there will be lots of people gathering.
Learning about all the details proves to be crucial, and this is what we want to do in the beginning. From there, we will work around assessing your space, seeing how it is distributed, and start working on the design that will be sent to you, along with the estimate of the project.
Once you approve it and make all changes needed beforehand, our team will start working on installing all features and redesigning your outdoors.
What Can We Install for Your Commercial Hardscape Project?
---
Anything from pergolas to firepits and pool decks. At Palm Beach County Hardscape Pros, we can take care of installing them and making sure you have your own paradise in the building or commercial property you own.
Driveways and walkways are also part of the spaces we can help with as we understand how crucial a good path and how it is connected to every part is crucial. Most people tend to underestimate or forget about paving, but we don't.
Most of the commercial properties and their owners we have helped over the years requested driveways to be stylized and made in the way they wanted to so clients and workers could continuously use them and feel attracted to them.
Personally, we consider both the regular hardscape features you should worry about most of the time, especially if your property or space includes some areas that are hard to walk in with specific types of shoes. You want to make everything accessible but also stunning and beautiful in the process, and these driveways and walkways help with the goal.
However, other elements such as pergolas, pool decks, water features such as fountains and ponds, and many other hardscape features can be handled by our team and included in the entire design.
When contacting us for commercial hardscapes, you are free to request specific additions and features instead of a whole design for your space. However, if you want the full service and leave the entire space to our team, you're more than welcome to let us know.
We will be happy to listen to everything you need and how we can support you throughout this project, so you don't have to come back to it but rather enjoy it for decades to come. The idea is to ensure everything is durable, long-lasting, and stunning, regardless of all the features you want us to install and include for you.
Below is our list of additional services:
---
Here is a list of our services you can get at Palm Beach County Hardscape Pros:
---