#1 Outdoor Kitchen Services for Palm Beach County Residents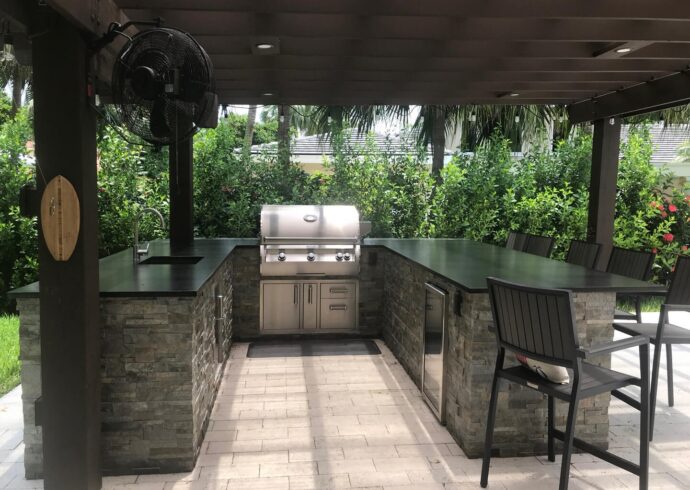 Having your own space to cook outdoors can prove to be a great addition to any property as you get to enjoy the great weather and how you can gather everyone around you. In contrast, you invite friends and loved ones to spend time together instead of being in the kitchen alone all day. At Palm Beach County Hardscape Pros, we help you build and install your outdoor kitchens, whether in a small outdoor space or a large one with more than enough space to have your dream kitchen.
Now, keep in mind that working with outdoor kitchens can be more difficult than you think. Although Palm Beach and all of Florida are known for their great weather and sunny days, they aren't strange to storms and hurricanes or simply rain. Therefore, it is crucial to set up a kitchen that will stand different weather conditions and will always be ready for use no matter when you decide to use it.
The idea is to reduce the time you spend cleaning and preparing it as well. There's no point in having a stunning outdoor kitchen if you are unable to work with it and if it takes too much time from your schedule. The point in all this is that it has a new feature that brings you happiness, no more headaches, and work.
The role of our contractors is to make sure you have everything in place, and this not only involves the idea of where the outdoor kitchen will be located but also all the elements and factors that come before and after it.
We want to know your budget and principles or preferences for the design so we can organize what can be done and how we will bring all your needs and the things you want to the table. In that way, you will be happy, but we will also cover all the issues that an outdoor kitchen could bring to your place.
Where to Start with Your Outdoor Kitchen
---
If you want to make this process enjoyable and have our contractors help you, make sure your budget is clear before and after you contact us so you won't have to suffer from the usual process of adding more than you can afford or not knowing what your limits area.
Most clients come to us and have an idea in mind regarding how much they would like to spend, but it is different from having a budget established that will help us set the top and what we can do within that range.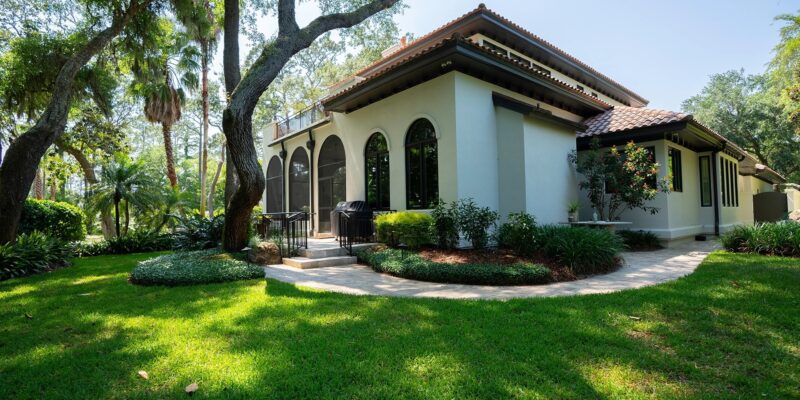 If you're having a hard time, it is possible to discuss what you want to do and what is possible with how much you want to spend later on. In that way, we can help you establish a realistic and fair budget for the project and design at the same time.
Outdoor kitchens can prove to be expensive due to the location, materials, build method, appliances, labor costs, and all the variables included in the process. To begin with, the type of kitchen and appliances used are not the same as those indoors in most cases, and we have to take different safety measures and implement them in the structure to ensure using the kitchen is safe no matter the circumstances and weather conditions.
From there, it is possible to navigate the entire process of designing the kitchen, having the plan for the outdoor space, and determining where will be the best place in your space to install the kitchen while you make decisions regarding appliances and how the kitchen should look like.
Is It Important to Have Contractors for Outdoor Kitchens?
---
Absolutely. Many homeowners—in particular—think about going for the DIY option and start the project without much thought about it. We understand that it is usually because contractors can be expensive, and they are not easy to find, at least when it comes to those that can actually provide a great service and ensure you have the final result without spending a fortune.
Our team at Palm Beach County Hardscape Pros is a great option, and although it is a bit biased to say we recommend contractors because we are them, to begin with, we truly do for your own safety.
We have experienced and qualified contractors that know what they are doing and will work around your deadline. We don't want you to wait forever for your kitchen, especially if it involves pergolas and places where you want people to sit around it. We care about you and how we tackle this project. Therefore, we will work hard to get the best outdoor kitchen ready in no time for you.
The main reason we encourage you to get contractors is that kitchens are not easily installed, even less outdoors. They involve dealing with gas, placing the connections properly, protecting them from all weather conditions, and even allowing you to reuse and prepare the kitchen after a storm has hit it.
A lot of work and requirements are involved in these hardscape features, and we want to make sure you don't have to struggle with continued repairs and maintenance when all it takes is a simple installation and preparation of the space where some features and appliances can be added to protect the kitchen while it isn't in use.
Do We Build, Install, or Assemble Your Outdoor Kitchen?
---
There are many ways to go over this project. You can have our team build an entire space with the elements required to have your kitchen, which often involves using the raw materials to build the entire space, including the usual countertops and areas to place your utensils.
Installing the kitchen is a bit more practical since it is possible to have certain features built, while others will be placed and installed where needed, such as the oven, kitchen, or some cabinets.
Assembling it is what most homeowners go for during DIY projects since it is about buying the entire outdoor kitchen design and assembling it in the area. The issue with this option lies in your kitchen's quality and how it will fit the design and space.
Our team can do either of them. However, we often prefer building and installing the kitchen to ensure everything is exactly how you want it. Hence, leave it to us, and rest assured you will have a stunning space for your cooking and gatherings when needed.
Below is our list of additional services:
---
Here is a list of our services you can get at Palm Beach County Hardscape Pros:
---