#1 Landscape Lighting Installation for Palm Beach County Homes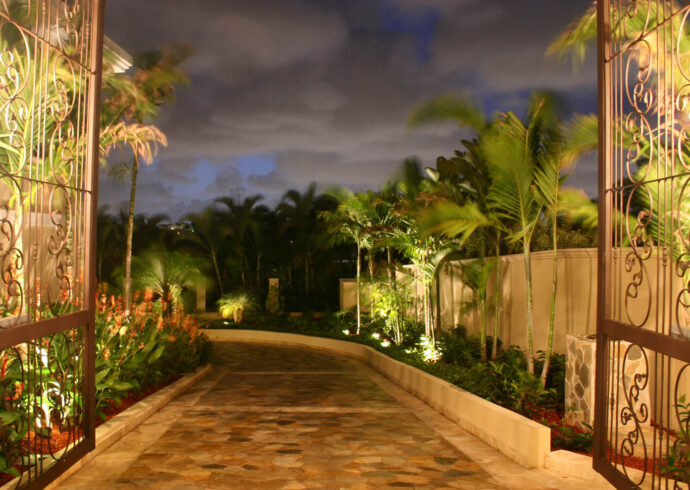 Contractors and property owners always forget one thing: how crucial landscape lighting is to ensure every corner and space in your outdoor living space is visible and possible to enjoy no matter the time and how many features or elements you have installed and placed in your outdoors. At Palm Beach County Hardscape Pros, we not only worry about the hardscape design itself when it comes to the construction and installations that can be done but also about making sure every single detail is noticeable and that no one will fall or trip because there is no enough light in the area.
Part of the landscape design and beauty relies on the lighting alone, and we cannot have the luxury of forgetting about it since once the sun goes down, you will have a hard time appreciating all the work invested and even being able to keep your outdoor space a safe place will be hard since you need to see where you are going and where each feature is located.
We always insist on working on this lighting feature because it actually expands and adds more options when using your outdoor living spaces at night or when the day is cloudy, yet the rain isn't stopping you from having some time outdoors.
We will come up with a full design and make sure you have a full ambiance that allows you to enjoy the space and even enhance its beauty since smart lighting can bring a whole new look to your outdoors that you don't even get to appreciate during the day.
How Difficult Is it to Deal with Landscape Lighting?
---
Well, contrary to popular belief, it isn't about installing lights everywhere and just hoping for the final result. In fact, if that were the case, it would be a matter of having an entire reflector on your property and lighting all the space without a care in the world.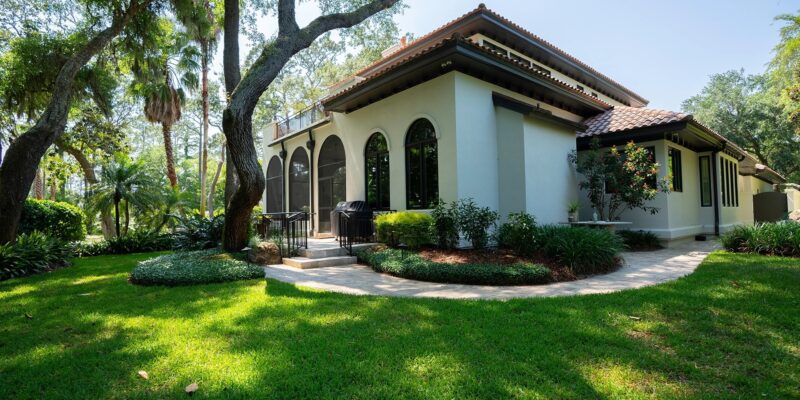 Instead, our lighting is more about worrying about how everything looks and making sure the features installed in your outdoors aren't hidden but rather stand out even more. As a reference, you probably have seen many pools with blue lights or great lighting options around and inside them that create the perfect ambiance for people to enjoy. Well, this is our job and what we can do for you and more.
The design and how the light fixtures will be installed and placed will depend on what needs to be highlighted and what's the best option to do so.
Following the example of the pool, having fixtures around it and inside the water is always a great idea so people can see where they are walking and prevent any accidents while they have a clear view of the water and get to relax while inside the pool no matter the hour.
However, when you have pergolas, other water features, patios, plants, trees, and more than just your regular hardscape features, it is important to choose what will be key in the design and landscape and what won't be. After all, it is a matter of choosing what matters more for you, and we will come up with an idea of how to highlight it properly.
In the case of hardscaping, such as outdoor kitchens and pergolas, the idea is to bring the opportunity to have a very lighted ambiance since the mood can change with it, and you can do more activities and stuff with the specific lighting while also having a darker option that can just make everyone relax as they sit and spend time in the space.
This is why there are several lighting options, and usually, all of them are used in a single landscape, as it is a matter of going over the most crucial areas. Some of the lighting fixtures we will install for you include:
Deck lighting.

Wall lighting.

In-ground lighting.

LED strip lighting.

Spike lights.

Cool and warm lights.
What's the Most Important About Landscape Lighting?
---
Believe it or not, looks matter second. What we care about the most, and you should too, is how long the lights will last. Since they will be placed outdoors, it is normal for them to be exposed to all weather conditions: rain, sun, storms, snow, and everything that takes place in the city you're located in.
In the case of Palm Beach and all over Florida, the rain and sun will be your main problems, and we need to ensure that none of the lighting fixtures will go to waste or cause problems during their installation and use.
This is why specific tools, materials, and products are used during your landscape lighting, and once we're able to find the ones that will guarantee durability, longevity, and safety, we start worrying about how we can fit the design and how much we can do around it.
Also, rest assured that we won't use low-quality products and materials in the process as most people consider that those that are bought in any market are enough when in reality, it is a matter of going for the high-quality options. Otherwise, you will be facing plastic and low-quality products that usually break and deteriorate easily, leading to more expenses, dangerous situations where you have to deal with water being in contact with your lights and electricity, and all the situations you want to avoid.
Our role is to come up with the design while guaranteeing a good installation that won't make you come back to us every year. It should be durable, long-lasting, and guarantee that you're able to get the most out of your money.
Therefore, contact our team in Palm Beach or all nearby cities for us to assist you in this process and guarantee a clean and safe installation that will go perfectly with your landscape and the design you went for.
We are more than happy to work with any project and space required so you have a lighting result that will brighten everything in the outdoor living space.
Below is our list of additional services:
---
Here is a list of our services you can get at Palm Beach County Hardscape Pros:
---